Auto Repair & Maintenance Shop
Auto Specialty of Lafayette, Inc. is the company to trust for all your auto repair needs. From suspension to catalytic converter replacements, we know cars—both domestic and imported models—and will work to get your vehicle ready for the road again. We proudly service the West Lafayette, Delphi, Fowler, Attica, Crawfordsville, Lafayette, and surrounding Indiana areas. Contact us today at (765) 477-7300 to learn more!
More than just a quick auto repair service shop, we are also a full diesel mechanic garage. Our formula for business is Service + Honesty = Trust. Contact us at (765) 477-7300 today to set up an appointment, or stop by our location with your vehicle. We take auto repair to a whole new level with excellent customer service and the best quality work from our professional staff.
Brake Check, Repair & Replacement
Brakes are one of the most important safety features of your car. With precious lives literally hanging in the balance, don't take a chance with questionable brakes. You can trust the automotive experts at Auto Specialty to get your brakes working, not just good enough, but rather exceptionally well. If you have noticed any of the following problems, you'll need to make a trip to our Lafayette auto shop:
Screeching or grinding sounds
Shaking of the steering wheel when applying brake pedal
A fully depressed brake pedal when coming to a stop
Smell of burning rubber or metal
Brake warning lights
View Our Auto Repair Shop Location!
Diesel Mechanic Services
Is your diesel-fueled vehicle acting up? Let a professional diesel mechanic from Auto Specialty handle your repairs. Because a diesel engine is more complex than a standard petrol engine, its maintenance requires a skilled hand and trained eye for the job. Our mechanics are certified specialists whose main focus is to provide quality repairs.
Regular Car Maintenance
We all know the importance of proper car maintenance, but it's so easy to let that next oil change slide until a more opportune time. Don't wait until it's too late and end up costing yourself a lot of money in repair costs. Auto Specialty can handle all your car diagnostic work, oil changes, service light warnings, anti-lock brake system inspections, and any other car maintenance services you may need.
Our wireless diagnostic equipment identifies your vehicle's problem quickly so we can make the repairs and get you back on the road. We even reprogram your vehicle's on-board computer if false sensor readings are frequently seen. Invest time in maintaining your car and it will pay off in the long run.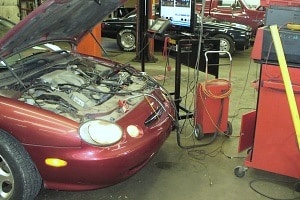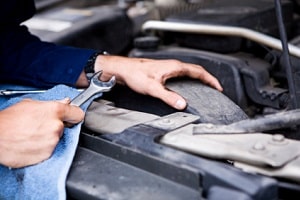 Alignment and Balancing
Wheel alignment is important in keeping your tires in shape and your vehicle on the road. If you notice your car pulling to one side, or a "crooked" steering wheel while driving straight, tire rotation or wheel alignment may be necessary. If it's time for new tires due to damage or age, rest assured we can get just about any brand of tire in our shop by the next day. Improperly installed or damaged tires can be extremely dangerous, so keep an eye on how your car handles before a catastrophe happens.
Tire Service
Auto Specialty can handle any suspension problems with your car, and we're also a local tire shop that supplies a variety of reputable brands. Waiting to get new tires can result in more damage and more costly repairs in the long run. Stop by our tire shop to speak to a certified technician about your options.
Exhaust and Catalytic Converters
Keeping your exhaust system in order is important because exhaust systems affect fuel mileage, safety, and the environment. Auto repairs can stem from any part of the exhaust system including the oxygen sensor, catalytic converter, muffler, or exhaust pipe. Auto Specialty can handle any repair that you may need for this system, including complete diagnosis of the problem.
Auto Repair in Lafayette
Auto Specialty also serves students, professors, and residents of West Lafayette and Purdue University. If you need an auto repair, come to our car shop for a quick fix so you can get back to the daily grind of school and work. Our expert mechanics perform everything from diesel engine repairs to oil changes and check systems to ensure your vehicle will drive safe when on the road.
Don't forget Auto Specialty is the name and car shop that you can trust. For oil change services, auto repair work, and more, our mechanics are skilled professionals who make it their business to know and understand vehicles of all types. Contact us at (765) 477-7300 to schedule your appointment today, or come into our Lafayette, IN location with your car or lightweight truck. We look forward to serving you!